2021 Organosilicon Fine Chemicals High-end Development Forum, hosted by China Fluorosilicon Organic Materials
Industry Association on May 12-14, hosted by Information and Marketing Department of China Fluorosilicon Association,
Beijing Fluorosilicon Technology Development Co., Ltd., Beijing Guohua New MaterialsIt was successfully held under the
co-organization of the Technology Center.This forum brought together nearly 400 experts and entrepreneurs from all
over the country to Guangzhou. Our company (Huangshan Qiangli Chemical Co., Ltd.) Chairman Mr. Ye Guanghua, his wife
and the special assistance of the president came to Yangcheng from the Huangshan headquarters to attend the meeting.
Work together to discuss silicones.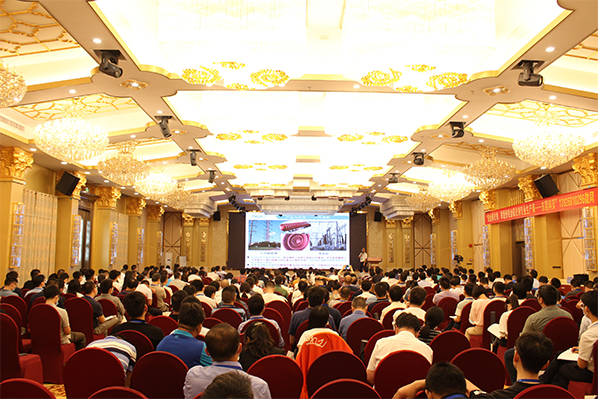 At the three-day forum site, 32 invited experts conducted detailed and in-depth analysis and discussion on the
application and development of silicone fine chemicals in different fields.It is specifically embodied in the new
technologies, new materials, new processes, new equipment and new applications of electronic adhesives for
communications; new technologies, new materials, new processes, new equipment and new applications of
silicones for new energy vehicles; silicones for photovoltaic industryIn-depth explanations and exchanges on
new technologies, new materials, new processes, new equipment and new applications.
This is a grand event in the silicone industry, a high-density information exchange, a top industry event, and a
super-burning brainstorm.In just three days, nearly 400 organic silicon experts and companies from all over
the country have cut into the three topics that are closely related to the most attention nowadays, namely,
electronic glue for communication, silicone for new energy vehicles, and silicone for photovoltaic industry.
Home, executives, researchers, etc. express their opinions, show their strengths, and get what they need,
and they return with a rewarding experience.The forum was also broadcast live. Thousands of people
related to silicone from outside the venue who could not be longing for it flocked to the live broadcast
room to listen to expert reports.Reports, questions and consultations, full interaction inside and outside
the venue, the atmosphere is hot.In this regard, the chairman of our company said after the meeting
that this trip is not in vain.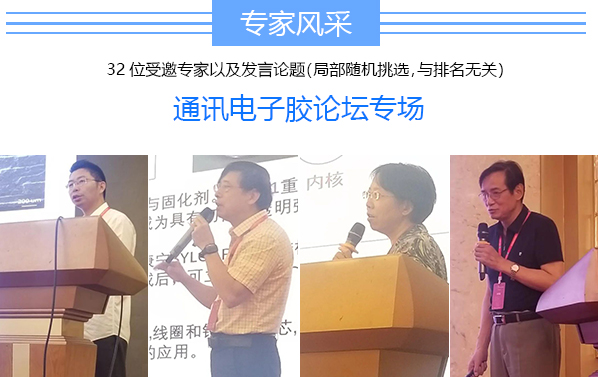 ●Research progress of organic silicon electromagnetic shielding materials——Xu Liwen (Professor of Hangzhou Normal University)
●Problems and future development of silicon rubber for electric power——Zhou Jun (China Electric Power Research Institute)
●Oligomer silsesquioxane hybridizationEpoxy resin and its research progress-An Qiufeng (Professor of Shaanxi University of Science and Technology)
●Structural design of liquid silicone resin and its 3D printing application-Liu Xiaoxuan (Professor of Guangdong University of Technology)
●Synthetic research of UV curable silicone coating——Bai Yongping (Professor of Harbin Institute of Technology)
●Design and Application of Highly Active and Low Viscosity Silicone Resin——Yi Wrong (Professor of Chemistry, Nanjing University)
●Progress in Application of Silicone Resin and Electronic Glue——Wu Lianbin (Professor of Hangzhou Normal University))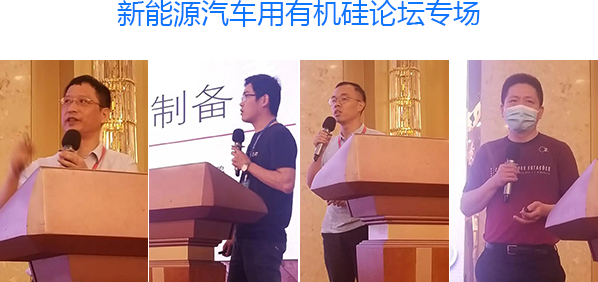 ●Research on the application of organosilicon materials in the interior and exterior of automobiles——Zhu Yi (—Chief Engineer of Automobile Group)
●Research on the application of organosilicon chemistry in power lithium batteries——Zhang Lingzhi (Director of the Research Office of the Chinese Academy of Sciences)
●Organic silicon materials in automobilesProduct application introduction-Li Shupeng (Guangzhou Automobile Research Institute engineer)
●Additional silicone sealant in the new energy automotive industry application-Ou Jing (Guangzhou Institute of Mechanical Science)
●Lightweight thermal conductive silicone gel for power batteriesPreparation Research——Su Junjie (Senior Engineer)
●Application of Silicone Foam in New Energy Vehicles——Ma Yijuan (Researcher)
●Development status and forecast of the photovoltaic industry in 2021-Lu Jinbiao (Vice President)
●Shen Xiao (Professor of Wuhan University) Selective synthesis and conversion of sulfur-containing alkenyl silanes-Silicone sealant for high-performance photovoltaic modulesResearch——Chen Jianjun (Senior Engineer)
●Research on silicone potting compound for high current junction box——Gao Qiushuang (R&D supervisor)
●Silicone resin and its application in photovoltaic field——Wang Sanyue (Deputy General Manager)
●GaoOrganosilicon Group Standards in the Quality Development Stage-Yang Yunong (Vice President of Guangzhou Institute of Synthetic Materials)
●Research on Silicone Potting Adhesives for Photovoltaic Modules with Weather Resistance and High Light Transmittance-Zhao Haiyang (Senior Engineer)
●2021 ChinaThe development status and trend of silicone market——Liang Yating (Senior Analyst)

Participants said that by participating in this conference, they learned new technologies and learned about
new trends, and gained a lot.It has been an extraordinary year for the silicone industry. The impact of the
new crown epidemic, foreign trade obstruction and short supply, frequent corporate accidents, drastic
fluctuations in product prices, and the competition of silicon companies to raise funds and go public have
all marked the development of the industry.2021 unique branding.In this context, China Fluorosilicon
Organic Materials Industry Association, Beijing National Chemical New Materials Technology Center,
China Fluorosilicon Association Information and Marketing Department and other units have overcome
many difficulties and built a communication platform for the industry to allow silicone colleagues from
all over the country to,From all corners of the world, gathered in Guangzhou Yangcheng to discuss
industry development matters, which is of great significance.As the top event in my country's organic
silicon industry, the Silicone Fine Chemicals Technology Exchange Conference will continue to have a
forward-looking vision, professional topic setting and first-class services to set up a platform for industry
personnel exchanges and contribute more to the development of the industry.